Sadness, grief, deep sorrow; these are things that make us uncomfortable. In times of loss, we're quick to call for healing both in ourselves and in others because we don't want to deal with the painful emotions involved in the stages of grief. But the reality is, when we've suffered a loss (whether as a result of a death, or a betrayal, or any other sudden life-altering circumstance) a time to mourn is a natural and necessary part of any true healing process. To minimize its importance is to cripple the mourner.
The Bible Tells us there is a Time to Mourn
Ecclesiastes 3:1-8 

For everything there is a season, a time for every activity under heaven. 

A time to be born and a time to die. 
A time to plant and a time to harvest. 
A time to kill and a time to heal. 
A time to tear down and a time to build up. 

A TIME TO CRY AND A TIME TO LAUGH. 
A TIME TO GRIEVE AND A TIME TO DANCE 

A time to scatter stones and a time to gather stones. 
A time to embrace and a time to turn away. 
A time to search and a time to quit searching. 
A time to keep and a time to throw away. 
A time to tear and a time to mend. 

A time to be quiet and a time to speak. 
A time to love and a time to hate. 
A time for war and a time for peace. 
The Importance of Grieving an Intimate Betrayal
True wisdom (the kind that comes from God) understands the seasons of life. Unfortunately, even when it comes to death, most of us are far too quick to diminish the importance of a time to mourn and instead we push the one whose life has been forever changed to "move on."
When that loss is something less universal than death, something like an intimate betrayal, our patience often very nearly vanishes.
Sure, we expect people to be sad after a betrayal. For a little while.
A very little while.
But then, with almost no time to process or listen for God's leading we demand a decision. We expect the betrayed to choose either to forgive and move on, or to end the relationship and, you guessed it, move on.
But if we're the ones in need of a time to mourn, we have to answer this question: Is GOD asking me to get over this and move on quickly, or is it just people?
God and Grief – Examples of Grief in the Bible
The first question to answer is, how does God speak of grief in the Bible? Is it something He seems to want us to hurry through, or not experience at all? What does He tell us about how to respond to others who are mourning? Should we try to push them to move quickly past the grief? To answer those questions, we need to find some examples of grief in the Bible.
The first thing I think of is the verse we all learned as the shortest verse in the Bible – John 11:35. It tells us Jesus wept. After the death of His beloved friend Lazarus, Jesus wept.
The mourning rituals in the Old Testament also come to mind. People would tear their clothes, put ashes on their heads, dress in sackcloth, and cut themselves with pottery to show God and the people how deeply they were filled with sorrow.
There are only two times I can think of in which God spoke against this. The first was in regard to the Levitical priests on duty, who were told they could not participate in these rituals while ministering before the Lord. The other, was when God told the people (Joel 2) to tear their hearts in their grief rather than their clothes. In other words, He was telling them to allow the sorrow to be more than a good show, but something that changed them from the inside.
But when it comes to God and grief, we don't find anything that suggests God doesn't want us to take a time to mourn. Nor do we see anything demanding we push others to grieve quickly. What we do find are verses like these:
Romans 12:15 – Be happy with those who are happy and weep with those who weep.
Matthew 5:4 – Blessed are those who mourn, for they will be comforted.
*For another amazing post exploring Ecclesiastes 3, and a time for every season check out this very moving, very encouraging piece from Heather at Lessons from Home. You will be blessed!
God Our Comforter in a Time to Mourn
No, we don't see God hurrying us through times of grief, or encouraging us to hurry others through theirs. Instead, we see Him drawing near to those who mourn. We see Him using that time to deepen the relationship between Himself and those who are coming to Him for comfort.
Psalms 34:18 – The Lord is close to the brokenhearted; He rescues those whose spirits are crushed.
2 Corinthians 1: 3-4 – All praise to God, the Father of our Lord Jesus Christ. God is our merciful Father and the Source of all comfort. He comforts us in all our troubles so that we can comfort others. When they are in trouble, we will be able to give them the same comfort God has given us. For the more we suffer for Christ, the more God will shower us with His comfort through Christ.
Psalms 46:1-2 – God is our refuge and strength, always ready to help in times of trouble. So we will not fear when earthquakes come and the mountains crumble into the sea.
Psalms 147: 3 – He heals the brokenhearted and bandages their wounds.
Times of grief and deep sorrow offer to us an intimacy with our Lord that is unmatched in any other season. Why would we ever run from an opportunity to crawl up into the lap of our Heavenly Father and be wrapped in His loving embrace? So let's not rush through our time to mourn. Let's cry our eyes out on His loving shoulder!
Remember, the Bible tells us He's gathering and keeping each tear in a bottle, and one day He'll wipe them all away!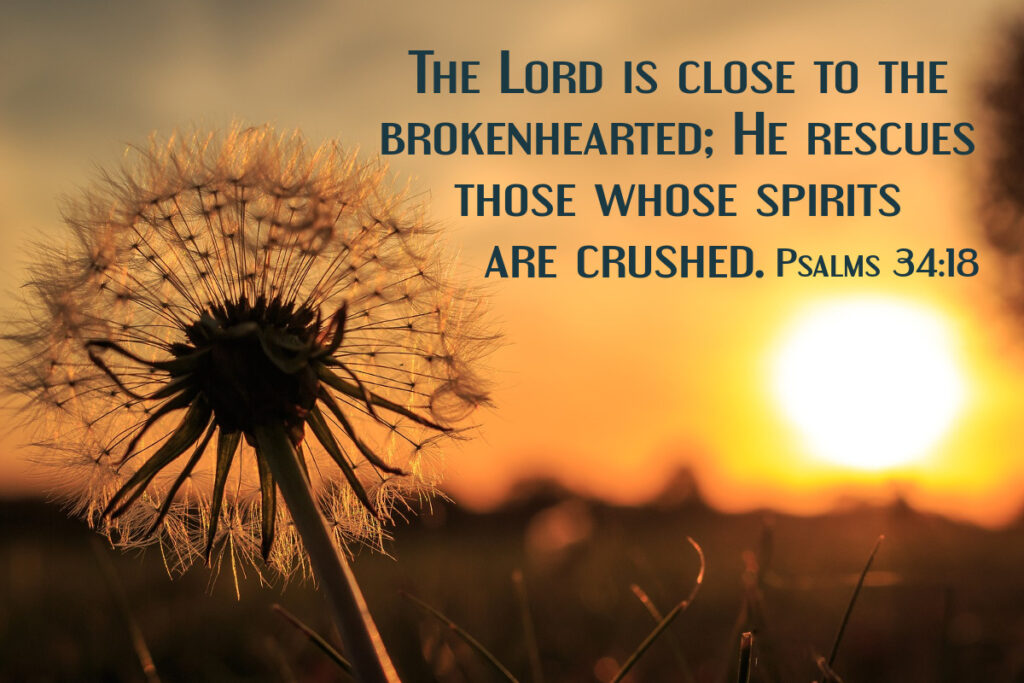 Encouraging Each Other to Find Comfort in God
Additionally, why would we ever try to rob a brother or sister of this precious time with God? Why would we rush anyone out of His embrace when He is in no hurry?
It is a terrible unkindness to suggest that there is something less than holy about grief, and to guilt those in a season of mourning for not getting through it more quickly.
May we love like our Father, and wrap our arms around the grieving for as long as they need. Let us encourage the mourner simply to seek God through their time of sorrow, and nothing more.
Psalms 62:5 – Let all that I am wait quietly before God, for my hope is in Him. He alone is my Rock and my Salvation, my fortress where I will not be shaken. My victory and honor come from God alone. He is my refuge, a Rock where no enemy can reach me. Oh my people, trust in Him at all times. Pour out your heart to Him, for our God is our refuge.
The Refining Power of Sorrow
Ecclesiastes 7: 3 – Sorrow is better than laughter, for sadness has a refining influence on us.
So what's the point of grief? How does a time to mourn help us heal?
Well, think about it. If seasons of grief draw us into the presence of God, and deepen our relationship and our intimacy with Him, the natural outcome is refinement.
One does not enter into the presence of God and remain unchanged!
Rather, times of sorrow teach us to listen to Him. To wait on Him. To accept our inability to change our sad situation, and to turn to Him for help.
Psalms 40:1-3 – I waited patiently for the Lord to help me, and He turned to me and heard my cry. He lifted me out of the pit of despair, out of the mud and the mire. He set my feet on solid ground and steadied me as I walked along. He has given me a new song to sing, a hymn of praise to our God. Many will see what He has done and be amazed. They will put their trust in the Lord.
Sorrow Leads to Repentance
That time spent in His presence will also reveal to us our own inadequacies. There is no time more likely to gently draw us to our knees in repentance than a time of deep mourning!
Romans 5: 3-4 – We can rejoice too, when we run into problems and trials, for we know that they help us develop endurance. And endurance develops strength of character, and character strengthens our confident hope of salvation. And this hope will not lead to disappointment. For we know how dearly God loves us, because He has given us the Holy Spirit to fill our hearts with His love.
Seeking God Through the Stages of Grief
I hope you can see, through Scripture, how important it is that we give ourselves and others the gift of a time to mourn.
The world of psychology has identified and assigned stages to the grieving process. Take them or leave them, but since I do see my own healing journey having gone through each of these stages, (Not necessarily in order, or in a linear way – but I do see these stages.) I tend to think there might be something to it.
*Here's a post about the non-linear nature of the journey through healing from betrayal. (Click to read)
More importantly, I also see support in our Ecclesiastes 3 passage for each of these stages. So, if you find yourself experiencing any of these stages of grief, understand there is a time for it. A time for EVERY season under heaven!
Don't allow guilt to stop you from going through the process, but rather, use it as a time to seek God through these emotions. The emotions themselves are not sin, but it is easy TO sin in some of these stages.
For instance, anger is a stage of grief that has the great potential to lead us to sin. There isn't anything wrong with being angry. Especially if what we're grieving has happened as a result of sin. When Israel and Judah "cheated on" God, He got angry. Very angry! (Read through Jeremiah and see for yourself.) But, the Bible does tell us, "In your anger do not sin." So we must be very careful.
Mourning Stages
Here are the stages of grief, and my own testimony of what God taught me through each one:
Do you see it? There were VERY important lessons God had for me in each stage. If I had tried to skip them, or deny them, or rush through them, I may not have gained each treasure. I would have moved on, but without having truly healed. And that would have been a tragedy!
So, may we grieve our losses. And may we not only allow, but encourage others to embrace a time to mourn! May we use these times to seek our Lord and gain from Him the treasures He has prepared for us through them.
Job 1:20-22 – Job stood up and tore his robe in grief. Then he shaved his head and fell to the ground to worship. He said, "I came naked from my mother's womb, and I will be naked when I leave. The Lord gave me what I had, and the Lord has taken it away. Praise the name of the Lord!" In all of this, Job did not sin by blaming God.
May we be like Job, and never blame God for our trials, but bless His Name forever. Not only for what He gives, but also for what He takes away. Blessed be the name of the Lord!
Micah 7:7 – As for me, I look to the Lord for help. I wait confidently for God to save me, and my God will certainly hear me.