I have just read, Your Sexually Addicted Spouse: How Partners Can Cope and Heal, by Barbara Steffens, PhD, LPCC, and Marsha Means, MA. I have to say, this is one of the best books on surviving infidelity I have ever read! So I wanted to share a quick book review with you.
I really cannot recommend it more highly. In fact, I recommend this book not only to the spouses of sex/porn addicts, but also to anyone who is trying to understand or help them. This book will offer so much insight into the trauma that the betrayed spouse deals with everyday.
Both my husband and I read it, and while it helped me immensely, I think the greatest value it offered was to my sexually addicted spouse! He has a very hard time with empathy in general, but this book really opened his eyes to my pain. It was a Godsend to us both!
A Book Review of the BEST Book on Surviving Infidelity
Until I read this book, I had only ever been exposed to the co-addict model when dealing with the spouse of any kind of addict. Every other book I had read was from this angle.
The theory in that thinking is that anyone who marries a person with the disease of addiction (even if there is absolutely no knowledge of the addiction at the time of marriage) is also diseased by what they call co-addiction, or co-dependency. According to those who subscribe to this model, these broken people are somehow naturally attracted to each other and, in marriage, you can't have one without the other.
I was always really uncomfortable with this idea and never really felt like it fit me quite right. But since I'm no expert and I could see how some of my behaviors did seem to fit the predictions of the co-dependent model, I reluctantly accepted the diagnosis and began developing strategies to help "break my addiction" to my husband.
It made me very uncomfortable though. My soul was so unsettled the entire time I was working under this model. Every book I read, every therapist I saw heightened the discomfort. I no longer had the peace that I was in line with God's plan for me that I had always been able to find all throughout this long and painful journey. Without that peace the situation felt unmanageable. Hopeless! Then God sent me this book through the recommendation of another woman in one of my support groups.
*UPDATE – Since the time I first wrote this review, I have read many other wonderful books in this field, but this is still one of the best (if not the best) books on surviving infidelity available! It is always my very first recommendation for women who have been betrayed and are trying to figure out how to move forward. There is no better resource not only to help you understand your sexually addicted spouse, but to understand what has happened to you along the way as well. You'll learn why you do what you do, and what you need to do to heal.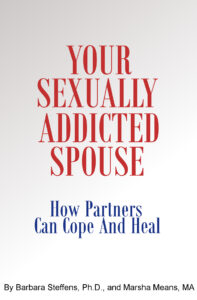 How Partners Can Cope and Heal – How it Helped Me
What a weight began to lift from my shoulders as I read about this new(ish) model that many in the field have started to use in working with the spouses of sex addicts. It is called the Sex-Addiction Induced Trauma Model. (SAIT)
The theory here is that partners of sex addicts experience a unique kind of trauma that very often leads to symptoms that look an awful lot like PTSD. (Post Traumatic Stress Disorder) Therapists who use this model believe many of the actions these spouses take after the repeated discoveries of their partners betrayals, which have always been categorized in the past as evidence of the disease of co-addiction, are in fact much more accurately categorized as the normal reactions any human person would have when exposed to this kind of trauma. As I began to read through the descriptions of these actions I saw such an accurate picture of myself. These authors UNDERSTOOD me! They understood my motivation, my hurt, my heart! What a relief it was!
As I continued to read and see myself on every page and feel the hope that comes from believing that someone out there really "gets you" I found something else – Courage! I found the inspiration I needed to put an end to the efforts to "break my addiction" to my husband and to instead shift my focus back to following God's leading in my life. I cannot tell you what joy I felt in the next few days as we adjusted our "treatment plans" accordingly and my peace returned. Praise the Lord!
I also began to understand more accurately what steps I needed to be taking to heal my broken heart. Whether or not my marriage survives (and at this point I am believing it will), I have to be able to recover. Either way, I want to be healed and healthy and whole. For the first time in this process I actually feel like that's the path I'm on.
As I begin to traverse the path that will lead to my own healing, I am hopeful the healing of our marriage will follow! I am so thankful for this book, it truly changed my life!
* If you're curious how our story has turned out since the time this post was written, you can find much more about our story here.
Your Sexually Addicted Spouse – How it Helps Him
We've learned a lot about my husband in the past couple months. For instance, we've learned that he suffers from a few personality disorders. As a result, the world just looks a little different to him. Reality is a little skewed. He has to learn to recognize this and find ways to interpret the world around him through a lens of truth rather than his own distorted thinking.
Empathy is a great example of something that comes naturally to most healthy people, but is very difficult for him. He CAN empathize, but it takes intention and a lot of work because in his reality there is only him when it comes to feelings and emotions. Stepping outside of himself and putting himself in the place of another is very difficult (especially when that person is someone close to him). As a result he has had a very hard time understanding the pain I have felt as a result of his actions.
One of the features of this book is the inclusion of personal stories from a number of women who have been treated by Dr. Steffens. For me, these stories were encouraging because they validated my experiences and how those experiences made me feel and act. For my love, though, they echoed so many of the things I've communicated, minus the ties to him and his actions. Since it wasn't him that caused the pain these women suffered he was able to recognize the horror of their stories. He was able to more easily put himself in their place and understand their pain. Then, he could take that understanding and apply it to me.
Finally, he could recognize that I am no different than those women, and if it hurt them so badly, it would hurt me too. It broke his heart. It changed so much about the way he saw me and our situation. Suddenly he was devastated over what he had put me through, and he was so thankful that I was still beside him – loving him and fighting for us. Suddenly, my healing became very important to him. Not just for me to work on, but for him to participate in as well. What a difference! What a gift!
Our Final Book Review
I am so thankful we found Your Sexually Addicted Spouse! It changed so much for us and for our healing. I believe wholeheartedly God sent it to us at just the right time!
If you or someone you know is dealing with the betrayal that results from sexual addiction then this book is for you! I know God has used this in so many other women's lives, just as He did in mine. And as you seek HIM in how to move forward with your sexually addicted spouse, I know He will use it in yours as well! Click the link below to get your copy and start reading it right now! You'll be glad you did!