It's time to address a very important reality about addiction, lies, and relationships. When we're active in our addiction, or even at the beginning stages of recovery, it can be difficult to understand why confession is SO important.
The enemy tells us we're protecting the people we love by not telling them what we've done, and that WE certainly are better off if we keep those secrets. As liars ourselves, we believe these lies pretty easily. But keeping secrets in a relationship shatters the foundation of trust needed for success.
And as far as our own recovery is concerned, the consequences of telling lies are detrimental, dragging us back into the addiction again and again.
Consequences of Telling Lies
1 Timothy 4:1-2 – Now the Holy Spirit tells us clearly that in the last times some will turn away from the true faith; they will follow deceptive spirits and teachings that come from demons. These people are hypocrites and liars, and their consciences are dead.
We know Scripture speaks to the importance of telling the truth, and the consequences of telling lies, but check out what science has shown about addiction, lies, and relationships in this study that shows lying actually changes the structure of our brain. It shows how dishonesty deadens our conscience, making it so the more we lie, the easier it becomes to do more and worse wrong.
The study shows that deception will always escalate into more and bigger distortions, and the only way to stop it is to tell the truth.
We can't deny the connection to addiction here. It's a vicious cycle. We do something we're ashamed of, and in order to avoid feeling that shame we lie about what we've done. This weakens our conscience making it easier for us to do something we're even more ashamed of, which means we now have to lie about that, and our conscience is further deadened making room for more shameful behavior.
The cycle continues on and on until we find we're dealing with an addiction.
My own experience certainly supports this conclusion! In this post I show how the more I lied, the more ammunition the enemy had to use against me. Before I knew what happened, I was so deep into sin there didn't seem to be any way out.
I hated myself and believed I was a worthless liar and a filthy cheater, and no matter what I did I could never be anything else. I believed if anyone ever found out who and what I was, I would certainly lose everything that mattered to me. I wish I had been able to see the consequences of telling lies more clearly BEFORE they hurt me and the people I love so much!
Proverbs 19:9 – A false witness will not go unpunished, and a liar will be destroyed.
Addiction, Lies, and Relationships
1 Peter 3:10 – 12 – For the Scriptures say, "If you want to enjoy life and see many happy days, keep your tongue from speaking evil and your lips from telling lies. Turn away from evil and do good. Search for peace and work to maintain it. The eyes of the Lord watch over those who do right, and His ears are open to their prayers. But the Lord turns His face against those who do evil.
If we're at all familiar with the Bible we already know God detests lies and deceitfulness. That alone should be enough to keep us from doing it, but the thing about addiction is, it tends to convince us to leave God and His will out of our decisions. As slaves to our sin, we live for ourselves, thinking only about what we believe will make US happy. Lies become necessary to get what we want.
The thing is, living a lie will make us MISERABLE! Every single time!
The TRUTH is, if what we want is to enjoy life; if our desire is to see many happy days, then we have to listen to what God has told us. He is the source of all truth, and he has told us, in order to find peace and joy in our lives we have to stop telling lies!
And the only way to stop telling lies is to start telling the truth. We have to turn away from evil and do good, and that means confessing our sins to our spouse.
Keeping Secrets in a Relationship
Colossians 3:9-10 – Don't lie to each other, for you have stripped off your old sinful nature and all its wicked deeds. Put on your new nature, and be renewed as you learn to know your Creator and become like Him.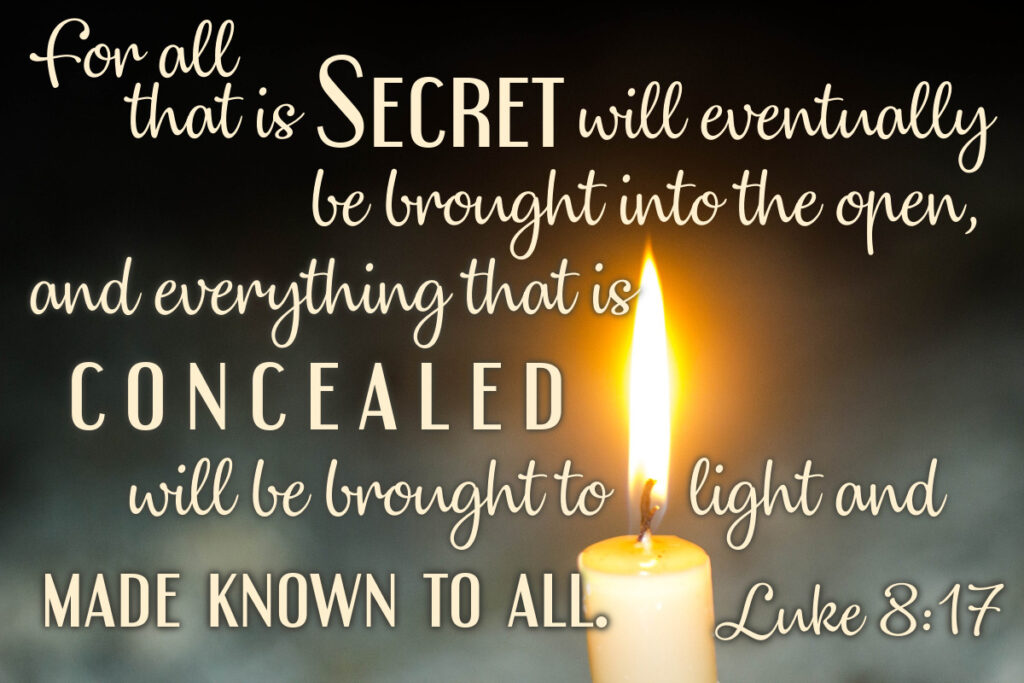 We've talked about the connection between lies and addiction, but the other part of this is that lies RUIN relationships. Your marriage can not thrive if it is burdened with the weight of secrets and deception!
Remember before when I said as liars we tend to be quick to believe lies too? Well, another side effect of addiction is that it makes us really really cocky! We believe we're going to get away with our lies. Even when we're caught again and again, we convince ourselves THIS time we're going to get away with it. But the Bible promises this is not the case.
God can see us. There aren't any secrets from Him, and He's warned us that everything hidden WILL BE REVEALED! He's not kidding. It's going to come out, and when it does, the people we love most are going to be devastated. That is the consequence of keeping secrets in a relationship. And it is certain. This is why confession is SO important!
Why Confession is Important
James 5:16 – Confess your sins to each other and pray for each other so that you may be healed. The earnest prayer of a righteous person has great power and produces wonderful results.
We don't need to spend a whole lot of time on this one. When it comes to addiction, lies and relationships there is one simple reason why confession is important -Because it holds within it the power to set us free!
We recently received a message from a reader, and we've asked if we could share it with you because we want you to understand it's not just us. These principles we teach from God's Word are the real deal. They work!
"I wanted to thank you for how much of an impact you've made on my family. After reading your blog, my husband confessed his sin of pornography to other people for the first time, and it has been life changing, especially for our relationship. Thank you for sharing your story, you'll never know how many relationships you're changing "
When we let other believers into the deep dark places of our lives they begin to pray for us, which opens us up and pours light into that darkness!
Prayer is POWERFUL! Never underestimate it. The Bible tells us if two believers pray together in agreement over ANYTHING the Father will grant that request! (Matthew 18:19) Just imagine the strongholds we could demolish if we'd unite with our wives under the Name of Jesus in prayer!
Confessing Sins to Spouse
Mark 10:6-9 – But "God made them male and female from the beginning of creation. This explains why a man leaves his father and mother and is joined to his wife, and the two are united into one. Since they are no longer two but one, let no one split apart what God has joined together."
It's true that confessing our sins to any other believer has great power, but because of the unity between us and our wives, that power is even greater when we're confessing sins to a spouse.
Our sin has fractured the unity God joined together between us and our wives. It has robbed her of what is rightfully hers. Confessing this to her is the only way we can hope to restore that unity. So let's start today. Let's stop keeping secrets in our relationships. Let's confess our sins to our wives and end the cycle of sin and shame!